Description
This stencil can be used with common paints or joint compound for raised effects.Scroll styling with lots of leaves makes this stencil design a lovely addition to walls, furniture or even ceilings. Repeat in to a wallpaper stencil or as a single design on cabinet doors.
Do you hate your plain porch floor? Give it a dramatic design by stenciling this design all over it using porch and floor paint! Or do what Julie McDowell from Dandelions and Poopies did and stencil it on the front of a large piece of furniture. Unique and so beautiful!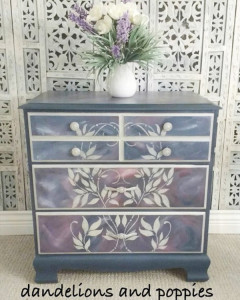 Single Stencil
20 x 14 1/4″
Raised designs are EASY with our beautiful stencils!
Use common joint compound (also called Wall Mud). It comes pre-mixed for you in a bucket and is available in the paint section of most home and hardware stores and acts just like frosting.
Just get some on a small trowel or putty knife and spread evenly over the top of the stencil, lift the stencil and there's the design! It's a cinch and a total ball! Now just let it dry.
Either paint the color of your wall as a simple raised design or paint with craft or stencil paints.
Joint compound can be pre-tinted if you choose or Color washes can also be done with wall glaze.
Stencil is laser cut of 14 mil, heavy mylar and comes with complete instructions and full color photo of the finished design.
You're going to LOVE it!
Design copyright Victoria Larsen 2014 all rights reserved.
How do you stencil with plaster? It's as easy as frosting the top of a cake! Check it out.