Darla Dawald has been a long time Victoria Larsen customer. I love it when she shares her creations with us. Who wouldn't be inspired by her lovely work?
She shared these wonderful tables with us where she used our Plaster Lizard Texture Stencil on table tops. Wow, don't they look high end?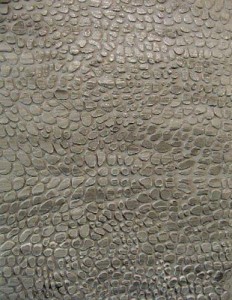 Raised Plaster Lizard Texture Stencil
Look how lovely and ultra detailed the surface came out!
In her email, she lists exactly what she did for you:
Hi Victoria,
I wanted to share the completed end tables with the VL Crocodile stencil with raised plaster, with you.
I used Snow White general finishes paint on body, then I painted the top in a dark gray. Tinted the plaster with black acrylic paint to make it dark gray. Applied the stencil 3 times across the center then taped off sections to complete the raised plaster stencil on top and bottom 6 times. It took some time but I'm happy with the result.
I then used the modern masters metallics in platinum with glaze. After it dried I used the silver tinted slightly with black as a glaze to achieve the depth. I poly sealed it in satin General Finishes with 4 clear coats on the top only. The General Finishes chalk paint on the body doesn't require waxing or seal (which I love).
Just listed them for sale.
Feel free to use my photos.
Darla Dawald
Darla's techniques can be used on any piece of furniture or even to create a high end looking accent wall in a powder room. I love how it came out! Don't you?