We've always been all about decorating the inside of our homes. But what about the outside?
There are many ways to use stencils and your own creative artwork to add your personality to outdoor spaces.
I love decorating with raised plaster stencils. They create a raised design on anything you put them on! Whether you want to add an elegant design to planter boxes,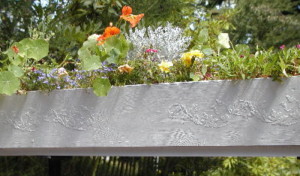 Or make over an old garden tool shed,
Plaster stencils give you dimensional beauty!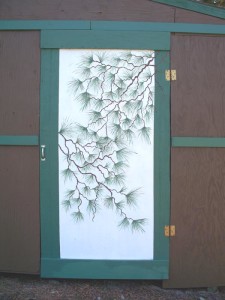 On this shed door, I combined plaster branches from our  Raised Plaster Pine Tree Stencil Set with pine cones from the included plaster molds to give it a woodsy look.
Just about any surface can be embellished with your own art or stenciling.
Here, Lynn Low used her own hand painted art to create an interesting mural on her block wall surrounding her pool.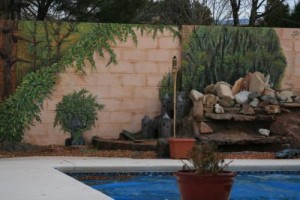 Simple acrylic paint was used to create the tree, vines, bushes and urn full of plants. Where you don't have artistic skills, that's where stencils come in!
So before "living outdoors" once again takes place,  take a look around your exterior to see what you can make prettier with a bit of art.
Exterior surfaces that can be stenciled:
Deck rails
Concrete walkways and patio floors
Planter boxes
Block walls
Wooden fences
Garden pots
Porch posts and floors