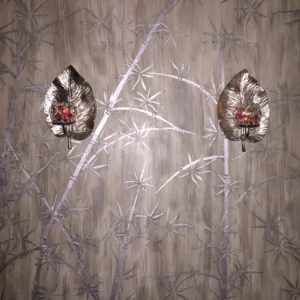 I've been working with Chris Rees with ideas and instruction for adding a plaster bamboo design to her dining room wall for quite awhile. That's not always easy when you're trying to do it through just written word, but Chris is an apt student and found exactly what would work for her.
As we wrote one another, I had no clue that this gal was so creative until I began getting her pictures.
She opted for a linen look finish on the wall as a background to her Raised Plaster Bamboo. Streaks of gray made it the perfect backdrop.
Using our Raised Plaster Freestyle Bamboo stencil, Chris began constructing an entire wall of luscious, life sized bamboo.
Pre-tinting the joint compound gray helped to give the bamboo color. She then used metallic silver paint over every branch and stalk to create the most upscale, elegant wall!
Her leaf sconces were the final touch that made that wall come together beautifully! When her sweet Mother came to visit, her one phrase was: "It's magical"! Chris was elated. And "magical", it is indeed.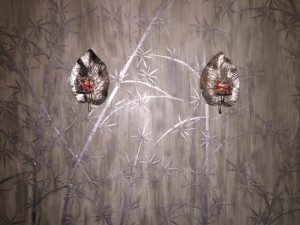 But was she done? Heck no!!!! She found a cute little corner table and saw the possibilities. Boy, did it need help! But Chris was just the gal to give it new life.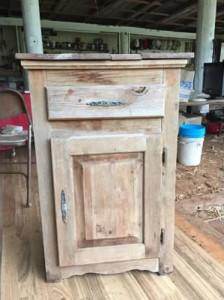 A good sanding was the first order of business.
A fresh paint finish with a new handle took the piece in the right direction. A raised plaster bamboo sprig on the door, surrounded by a black painted frame made this table a one of a kind treasure! Notice how the background finish behind the bamboo design is metallic? Brilliant!
More of Chris's projects will be featured soon. Wait until you see the tea tray turned bathroom sink! Wow!
Pam Findley was (and I mean "was") like most of us. Construction grade cabinets in her kitchen and she wanted more. More I say! More!
And she got it!
She used the large vine stencil at the fascia board and then the smaller design on each of the doors, flipping and mirroring the design on each door.
I love the country finish she used for the cabinets, but she didn't mention how she did it. Either way, it was quite an upgrade to those cabinets. Great job Pam!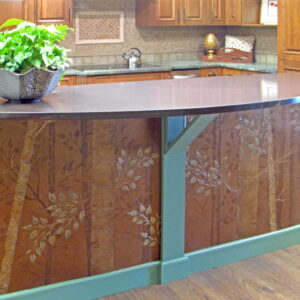 Kass Wilson is a highly respected and much sought after Professional Faux Finish Artist and Kass has used our stencils in the homes of some of her most precious clients.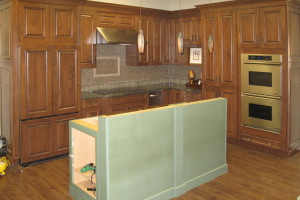 When one client presented her with giving their kitchen island an exciting decorative finish, Kass knew just what she wanted to do. And considering the lovely wood cabinets, the perfect design came to mind.
She used our Raised Plaster Aspen Tree stencil to add a bit of rustic elegance to the piece and to tie in with all the lovely wood in the room.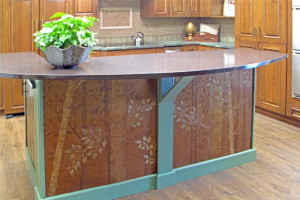 Using the trunk stencil repeated from the base to the top, the idea of a birch "forest" emerged. Using both the large and small trunks, she was able to create real depth in the design.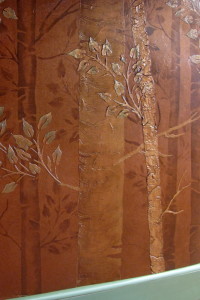 Background leaves were "painted" where more forward trees were "plastered" to create the detail she was after. The entire area was glazed using a copper tone glaze.
What a lovely idea! And how creative! I designed the stencil set but even I never thought of using a full sized Aspen Tree Stencil on a piece of furniture. Sheer brilliance! But of course, what else could we expect of Kass Wilson?