Kass Wilson is a highly respected and much sought after Professional Faux Finish Artist and Kass has used our stencils in the homes of some of her most precious clients.
When one client presented her with giving their kitchen island an exciting decorative finish, Kass knew just what she wanted to do. And considering the lovely wood cabinets, the perfect design came to mind.
She used our Raised Plaster Aspen Tree stencil to add a bit of rustic elegance to the piece and to tie in with all the lovely wood in the room.
Using the trunk stencil repeated from the base to the top, the idea of a birch "forest" emerged. Using both the large and small trunks, she was able to create real depth in the design.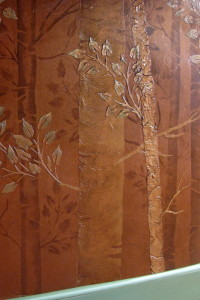 Background leaves were "painted" where more forward trees were "plastered" to create the detail she was after. The entire area was glazed using a copper tone glaze.
What a lovely idea! And how creative! I designed the stencil set but even I never thought of using a full sized Aspen Tree Stencil on a piece of furniture. Sheer brilliance! But of course, what else could we expect of Kass Wilson?