I've been working with Chris Rees with ideas and instruction for adding a plaster bamboo design to her dining room wall for quite awhile. That's not always easy when you're trying to do it through just written word, but Chris is an apt student and found exactly what would work for her.
As we wrote one another, I had no clue that this gal was so creative until I began getting her pictures.
She opted for a linen look finish on the wall as a background to her Raised Plaster Bamboo. Streaks of gray made it the perfect backdrop.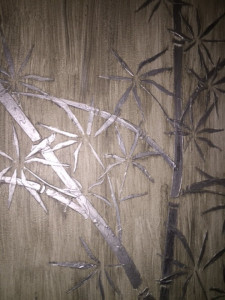 Using our Raised Plaster Freestyle Bamboo stencil, Chris began constructing an entire wall of luscious, life sized bamboo.
Pre-tinting the joint compound gray helped to give the bamboo color. She then used metallic silver paint over every branch and stalk to create the most upscale, elegant wall!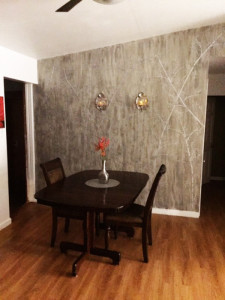 Her leaf sconces were the final touch that made that wall come together beautifully! When her sweet Mother came to visit, her one phrase was: "It's magical"! Chris was elated. And "magical", it is indeed.
But was she done? Heck no!!!! She found a cute little corner table and saw the possibilities. Boy, did it need help! But Chris was just the gal to give it new life.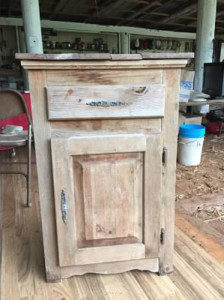 A good sanding was the first order of business.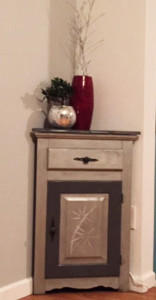 A fresh paint finish with a new handle took the piece in the right direction. A raised plaster bamboo sprig on the door, surrounded by a black painted frame made this table a one of a kind treasure! Notice how the background finish behind the bamboo design is metallic? Brilliant!
More of Chris's projects will be featured soon. Wait until you see the tea tray turned bathroom sink! Wow!