Description
This plaster stencil creates the prettiest fine design on walls, furniture and more.
Debbie Quintanta used it to decorate her kitchen in the cutest way!

Debbie Soto used it to create a break design between to wall colors on her walls:

And Sue Rantzow/Doney used it to etch her bathroom mirror. See how she did it here.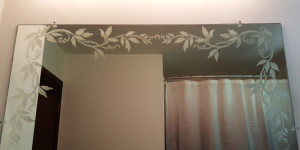 How will you use yours?
Remember that all of our plaster stencils can also be used with liquid paints and even etching cream!