Description
Our Bennington Frieze Plaster Stencil is sized perfectly to create a smaller, yet very stylish design on cabinets, boxes, drawer fronts and more.
Here, I plaster stenciled it on to a plain box that I had painted sage green. I used it as a raised background behind a plaster piece made from our Celtic plaster mold. This box was a huge hit and so easy to do!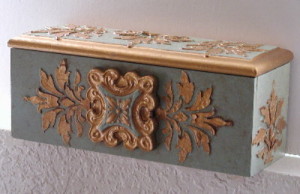 Michelle Mullins used this plaster stencil design to give her kitchen cabinets a brand new (and quite lovely) make over!