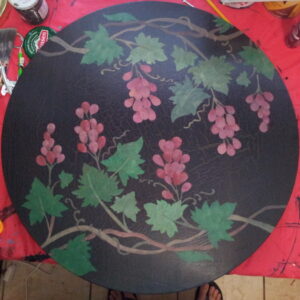 Handcrafted and re-purposed, re-finished items, are all the rage these days. Etsy, Artfire and Bonanza are known as great on-line market places to find them. But so are craft fairs, trade shows and galleries.
Some people are able to make a living at the craft and many use stencils to decorate their items.
Mike makes lazy-susans. He sells them at various shows and craft fairs and has done well with his creations. He was delighted when he used our Grapes Border Stencil to add grapes to this large lazy-susan.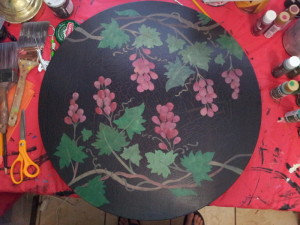 I've created many "new" items from old ones using plaster stencils and molds. One example is this beautiful wooden box that I did with our Raised Plaster Bennington Frieze Stencil and a plaster molded piece.
Not only was it fun and rewarding, it was also profitable since I sold it for $45.00!
A few years ago, I found this awesome (but broken) table at the dump and hauled it home, re-doing it with plaster stencils and paint. That free item fetched $75.00.
So if you're thinking about getting in to this very popular business, consider adding stencil designs to your items to create more interest and to fetch a higher price.
Whether you are looking to add a stenciled wallpaper pattern to a focal wall,
stencil a beautiful new chair rail or ceiling border or if you just want to add a pretty design to cabinets or furniture, you will find a stencil designs here that will add beauty to your life in any color you choose.
Stenciling is easy! Whether you stencil with a stencil brush or paint roller, stenciling makes decorating your home simple and fun. Check out the How to Stencil area to see just how easy and fun it is.
---
---
Spring is on the way!
With spring on the way, and now is the perfect time to give our homes a fresh new look before the temperatures warm up and we focus our attention on our yards and gardens.
Consider painting kitchen cabinets and adding a raised design to the cabinet doors.
Create a new back splash design with raised stencils
Add an all over wallpaper design to a focal wall.
Or re-do a tired piece of furniture and give it a new, exciting look!
Victoria Larsen Stencils was the first to introduce you to Raised Plaster Stencils in 2004
and has been the leader ever since with this unique and innovative decorating technique. If you can spread frosting, you can create stunning, raised designs on just about any surface, including walls, ceilings, furniture, cabinetry and craft items.
We're also the first to introduce you to creating high end plaster ceiling and wall designs with our unique line of plaster molds.
Our classic designs and easy How To instructions help you create elegant and beautiful home decor to help you create the home of your dreams.
For awesome ideas, check out the Decorating Gallery and see what others are doing with our designs.
---
---
---
---