Handcrafted and re-purposed, re-finished items, are all the rage these days. Etsy, Artfire and Bonanza are known as great on-line market places to find them. But so are craft fairs, trade shows and galleries.
Some people are able to make a living at the craft and many use stencils to decorate their items.
Mike makes lazy-susans. He sells them at various shows and craft fairs and has done well with his creations. He was delighted when he used our Grapes Border Stencil to add grapes to this large lazy-susan.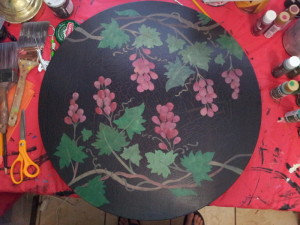 I've created many "new" items from old ones using plaster stencils and molds. One example is this beautiful wooden box that I did with our Raised Plaster Bennington Frieze Stencil and a plaster molded piece.
Not only was it fun and rewarding, it was also profitable since I sold it for $45.00!
A few years ago, I found this awesome (but broken) table at the dump and hauled it home, re-doing it with plaster stencils and paint. That free item fetched $75.00.
So if you're thinking about getting in to this very popular business, consider adding stencil designs to your items to create more interest and to fetch a higher price.