It was just an outdated wood box I found at a thrift store, but I was about to give it a great new life as a Christmas gift for a special friend.
I used joint compound on our Raised Plaster Diamond Panel Stencil on the top of the box after giving it a healthy coat of primer.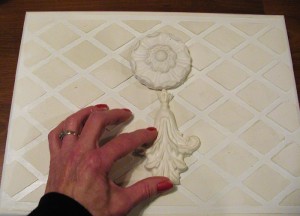 I then cast and applied plaster ornaments from our plaster molds to the top. Simply choose your favorite! White glue works fine to adhere them, just be sure to prime both sides first.

Once everything was dry, I painted the entire box with cream colored latex paint then mixed dark brown paint with translucent wall glaze and brushed it over the entire surface. Make sure to get your bristles in to all the little crooks and crannies!

With a wadded, old terry towel, begin wiping off the excess glaze, allowing it to remain in the recesses.

Once everything is dry, give it a good coat of clear sealer and it's ready to give as a gift!