Description
I love wall stencils that are a single element such as this stencil design. Why? Because you can randomly use them as a wallpaper stencil or use them as a simple, yet elegant element on table tops, dressers and even cabinets.
I used mine to decorate my black, canvas suitcase so I could find it quicker at the airport! Didn't it come out cute?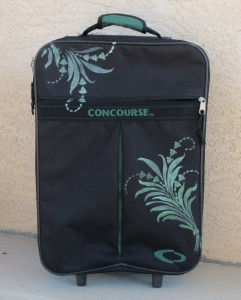 This is such a cheery design that would be great stenciled on a fabric shower curtain, then use the same design with fabric paints on a bath mat or rug to match.