Description
Whether you stencil this design on to furniture or use it to dress up a wall, it makes a statement!
Try it as an all over wallpaper design for a feature focal wall. Add it to a table top as we did or stencil it on the powder room cabinet doors.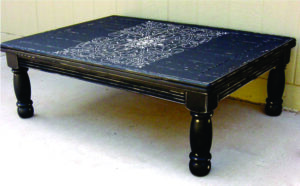 This would be a great stencil for not only walls, but your tired old linoleum!
It's easy peasy! Simply tape the stencil in place, then using a small roller, roll excess paint off on to a pad of newspapers then roll over the stencil lightly. Un-tape and peel the stencil back to reveal the design.