Description
I enjoy high end decorating magazines such as "Traditional Home" and "Veranda". Lately, I've been seeing a big focus on Chinoiserie designs (especially of the tree variety) covering walls and done in the recessed panels of armoires and cabinetry.
Because a Chinoiserie is typically very complex, I decided to create a stencil set that is made up of all single stencils (no overlays) to make the process fun and easy!
Here's how simple it is:
Begin with the tree trunk stencil. Repeat it over and over to create the tree size you would like to fill your wall with. It's easy to repeat! Just line up the bottom of the trunk to one of the upper branches and stencil again to form a larger, almost vine-like trunk.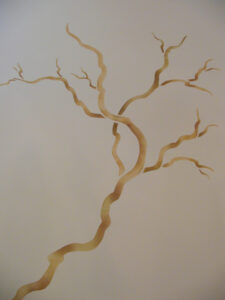 Add shading where there are extreme curves or breaks in the pattern to help create depth.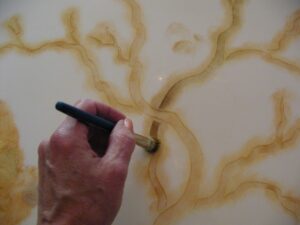 I like to add the exotic bird stencil next. If I stencil it before adding leaves and flowers, I find it much easier since it is a large element. Perch it on one of the branches.
Stencil leaves at the bridges of the trunk and where ever you think leaves would look good. Don't skimp! Add many! This helps to give a good solid base for what is yet to come.
I like to add very faint leaves. They lightly fill the space but also appear to be in the background to more forefront, dark leaves.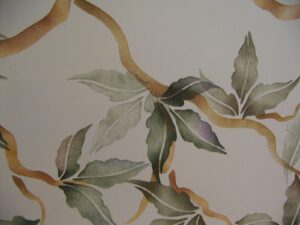 Stencil large Roses here and there. By making the centers very dark and the outer petals lighter in color, you create instant depth.
Stencil rose buds the same way.
Fill an entire wall with this beautiful design or create a simple tree that stands alone. This design is fabulous on deeply colored walls or try it in varying colors of metallic gold paint on jet black furniture. So regal!