All of the doors in my home are standard 6 panel doors.
Well, you know me, I like something more, something unusual, something exciting!
So I created a series of panel stencils that are perfectly sized for these types of doors.
I used our Raised Plaster Chaumont Panel Stencil to create the design on each panel.

See how perfectly it fits in each panel? 
I simply used joint compound then painted the entire door with door and trim paint that matched the color of my walls.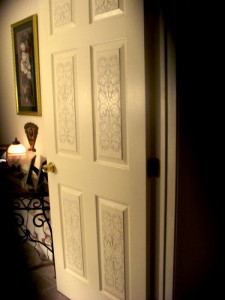 Now, I LOVE those doors and have done every door in my house, including the entry doors!
See these designs for your doors! (But they also make exquisite border stencil designs!)