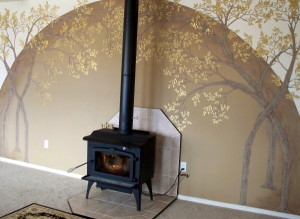 When I moved in to my new home in New Mexico, a 15 foot blank wall stared me in the face for months! Since I use my own home and walls to showcase new products, I decided my new Raised Plaster Arched Tree Stencil Set belonged on this wall, arching over my wood stove.
Yes, it was lovely, but after a few months, I missed my favorite design, my Raised Plaster Aspen Tree Stencil. That's always been my own signature design and my home in the mountains of Idaho featured 8, eighteen foot tall aspens accenting the walls.
So one afternoon, I scraped the arched trees off the wall and decided I would do my Aspens Trees on a pale gray wall. Gray is a neutral color and is so popular right now that I really thought I'd love it.

That certainly was the "design" I was after, but the color still wasn't quite right for all of my furniture and my beige carpet.
I painted over the entire wall with cream colored paint, re-painted the trunks bright white with black bark accents and painted the leaves metallic gold.

Ah yes. That was it!!!!
The point of this story is that we spend money and put time and effort in to decorating our homes. But if once we do it, it just doesn't "feel" right, don't be afraid to make it right! This is YOUR home! You live in it every day! You see those walls day after day and if they don't appeal to you for "whatever" reason (color, design, lay-out), put in the extra time to get it right. You'll be so glad that you did!
And don't think that it's only "you" who has ever faced this issue. Even designers and interior decorators have encountered the same dilemma. What do we do? We fix it!