Oh how I hated this cabinet in the master bath of my home in Idaho. Layered barn wood, to me, is meant more for an out house!
The rest of my home was elegant so I just had to do something about this situation.
The thing was that the cabinets were well made of super great wood so I decided rather than to replace, them, simply "re-do" them.

I removed all of the doors and drawers and went to work on the garage floor ripping the old wood out so I could cover them with a new, flat wood surface.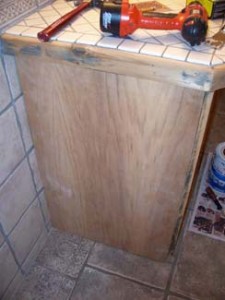 I used 1/4″ oak panels to replace the barn wood.

I painted the cabinet the same cream color of the walls, then painted all the doors and drawers a rich brown color. It was the perfect backdrop for metallic gold stenciling.  
I used a small roller to stencil our Elegance Wallpaper stencil on to the new surfaces.
It was the perfect design!
I loved the new cabinet, but it needed something in the center of the doors so I used our Ornate Round Plaster Mold to cast a plaster piece for the very center of the large door.
The whole project came out so great that it made me want to do more make overs like this!