Kate Aste loves Mediterranean style architecture and decorating. So for her Mediterranean style home, she chose to use our Raised Plaster Freestyle Grapes Border Stencil to add a beautiful raised design to her walls.
Using standard joint compound and paint, she trailed the grapes all over the kitchen walls and dining alcove.
Pre-tinting the joint compound with green and purple paints allowed her to apply the design already colored.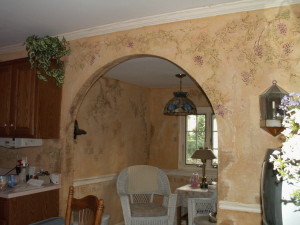 Great job Kate!