It started as a large, plain terra cotta pot from Walmart. 

I put it on the lazy susan in my craft shop and got to work.
I used our Raised Plaster Cerise Vine Stencil and instead of joint compound as the medium, I used pre-mixed tile grout. It dries rock hard and you don't have to worry about wind or rain disturbing the design.
Don't worry if the grout crumbles a little. That's natural. But don't over-work the grout.
Peel the stencil back to reveal the new design.

When using tile grout, be sure to clean your stencil immediately after each use so it doesn't dry and clog the stencil openings.
After the stenciling is done, let it dry overnight.
Once dry, I sprayed the entire pot with Rustoleum's Hammered Copper spray paint.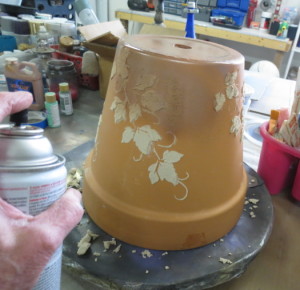 To create the Patina look, I used a damp sea sponge and after randomly brushing areas of the pot with Americana's Sea Aqua craft paint (watered down just a hint), I sponged it to blend.

I then hand painted the vine with Art Deco's metallic aqua paint to make them pop.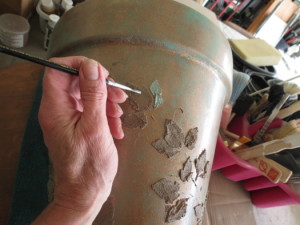 It's now a permanent decorator fixture in my back yard!

This would be a great "for sale" item at craft fairs or on Etsy. Give it a try for yourself. It was fun!