Cindy had always wanted a tile back splash and when she saw our Raised Plaster Standard Brick Stencil, she knew exactly how she was going to get it without cutting tiles, without mortar, without the mess and hassle.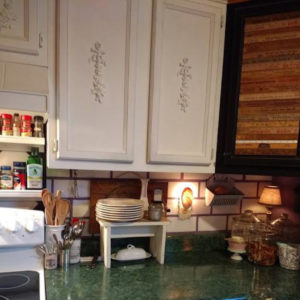 You could do an entire wall with this great and easy to use stencil! Here's how:
Simply paint the wall the color you would want your grout to be. Tape the stencil to the wall and smooth pre-mixed joint compound over the stencil openings. You can make the tiles look like stone tiles by simply leaving them more rough, but Cindy smoothed hers.
Once the first repeat is dry, line up the stencil and do it again, repeating this process until you have covered the entire desired area.
Now, give it a coat of polycrylic (which doesn't yellow) to seal it against dirt and dust and you're done!
Great job Cindy and it looks so real!