Eilis has a beautiful kitchen! But something seemed "missing" despite all that luscious stone and brick. So this creative person decided to create a dimensional back splash on to the blank space behind the stove.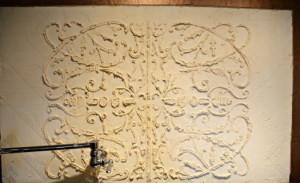 Using our Raised Plaster Annabelin Stencil, (flipped and repeated to create a much larger design), the stencil created a gorgeous element of design to add to this beautiful kitchen.
Framed in inset bricks and stone walls make this a perfect addition to this beautiful area.