Jo loved the thought of a raised plaster stencil design on her ceiling. And she wanted a design that would look natural.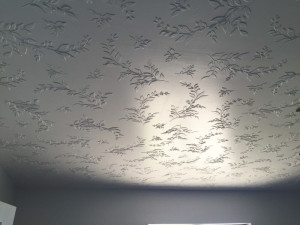 Using the stencil in a random pattern all over the ceiling, she then used the smaller sprig as a fill in design between repeats.
She mentioned that since she wanted the design as thick as possible, in spreading a very heavy layer of joint compound over the stencil, she found it sagged in the center.
The solution to this is to spread a thin layer of joint compound first and scrape it smooth. Believe it or not, this actually helps the stencil adhere better to the surface. Then without removing the stencil, spread the heavier layer you desire. The stencil now stays perfectly in place. Especially when you are working over your head.
Another trick for ceilings: If your neck tires easily, try using a travel neck pillow to brace your neck as you work. When I did my 10 foot ceiling medallion project, that neck pillow was a life saver!
After Jo finished her ceiling, she told me that she and her husband were selling their house and having a new home built. She mentioned that she loved this ceiling so much that she planned to do the same thing in her new home as well.
I can see why! It's simply beautiful!
This would also be a lovely treatment for a focal wall in any room in your home.