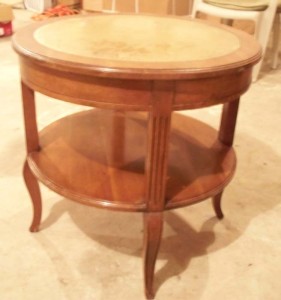 It started out as a dump site find. Solid wood, round, with a single broken leg. Now, how could I resist? I hauled it home and surveyed the damage.
A little wood glue and clamps over night fixed the broken leg and I was ready to get started!
I gave it a good sanding with my electric palm sander and primed it top to bottom.
I then added raised plaster stenciling with wood putty to the sides of the top.
Once dry, I painted the entire table jet black and hand painted the raised designs with metallic gold craft paint.
Using our Raised Plaster Astana Medallion stencil with standard acrylic paints. Yes, you can certainly use any of our raised plaster stencils with just paint.
I centered the stencil on the round top and gave it a gorgeous design.
The table legs and trim also go a lick of gold metallic paint to finalize a beautiful make over of this table.
Now, it looks like a super expensive piece you might find in a specialty shop!