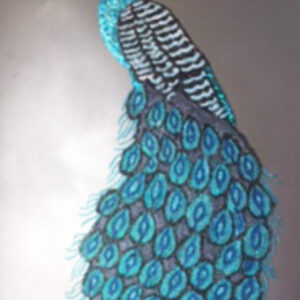 I was so pleased when Laureen Copeland sent me photos of the peacock art piece she had completed for a friend. On MDF board, she painted a soft, gray backdrop for the peacock.
Then, using our Raised Plaster Peacock Stencil, she plastered the design then used glass beads to add the color. Wow! Is that amazing or what????? Talk about texture and color!
Take a close up look:

There are so many ways you can use our plaster stencils to create art and Laureen did a bang up job! She's now working on her second piece and I can't wait to see it!
Thank you so much for sharing Laureen!
I have to say, I'm terribly impressed with this website. Professionals pay thousands of dollars to learn some of the techniques taught by the Furniture Painting University, yet, you can be a student for just a few dollars a month and learn to paint project after project!
Visit today to check out the instructional videos and articles that will have you doing furniture make overs like a pro with just your first visit!
Next Page »