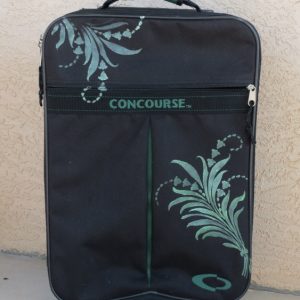 We either have them now or we've had them in the past: That black, non-descript black suitcase!
I've stood such a long time at the conveyor, waiting to recognize my own black suitcase (that looked like every other black suitcase!).
But NO MORE I say!
I stenciled it!
To stencil your suitcase, Add a piece of cardboard in to the front pocket to stabilize the canvas.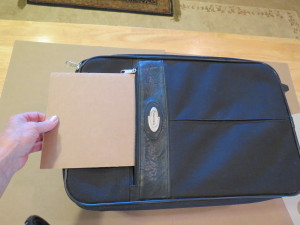 Now, you can simply choose your favorite stencil design and stencil it with standard bottled acrylic craft paints.
I used green acrylic paint that matched the handle and logo on my suitcase.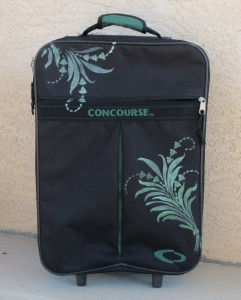 I used our Miss Lynn Stencil to add a pretty design to the upper and lower corners of the suitcase.
Now if that isn't recognizable, I don't know what it! It's also stylish and cute!
This would be a great design for canvas bags, purses and even clothing!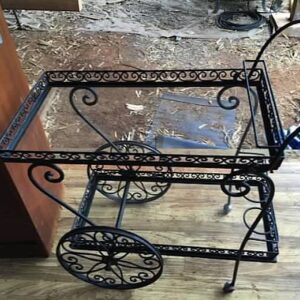 I love all things "home decor" and that's what my blog is all about. Not just stencils or stenciling.
With that in mind, I couldn't wait to share this incredible make over by my new friend and customer Chris Rees.
First, let me tell you a little about Chris. She's a visionary who sees things much differently than the rest of us do. Especially when it comes to home decorating. Not only that, she's incredibly creative! She looks at something and sees a different purpose, a different color, a different slant on what something was meant for.
I have to tell you, she really blew me away with these make overs!

Step one: Common, iron tea cart.
Step two: Fill with polished rock, add a luscious red sink and accessories, a rustic water fixture and Wha La! The COOLEST bathroom sink cabinet (can you call it a cabinet?)  I've ever seen! And how cool she used the tea cart handle as a towel rack!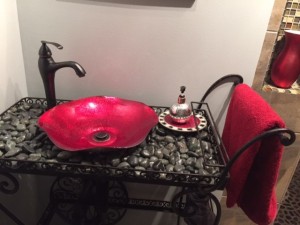 Look how adorable this bathroom came out!

Now, would WE have ever thought of such a clever use for a tea cart? Me, I would have seen a plant potting cart, maybe a roll around cocktail station, but this gal turned it in to something so wildly elegant!
Now, check THIS one out! See that sink in the photo below? You're never going to believe this, but it's a light cover turned upside down! REALLY????? Who would have thought.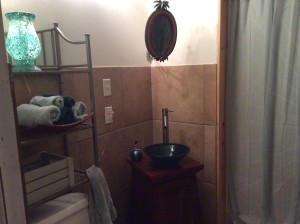 Here's what she said about it:
 " The interesting thing is that this sink bowl is actually something that I came across on our property as we were left with a mix of junk and treasures (ton of it). It is either a reverse lighting lamp or belongs to a ceiling fan light.  I really don't know, but the measurements were right for the drain so I painted it with Turquoise glass paint, fired it in my oven and well, read about plumbers putty.  Really never unclogged a drain before building two sinks?  My kiddos could not reach the top of the original so whats a Mom to do?"
Clever and creative, she saw a need for a lower sink area for her children and solved the problem in the cutest, most clever way!
On my knees, I bow to your greatness Chris!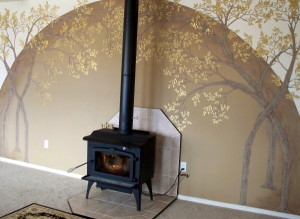 When I moved in to my new home in New Mexico, a 15 foot blank wall stared me in the face for months! Since I use my own home and walls to showcase new products, I decided my new Raised Plaster Arched Tree Stencil Set belonged on this wall, arching over my wood stove.
Yes, it was lovely, but after a few months, I missed my favorite design, my Raised Plaster Aspen Tree Stencil. That's always been my own signature design and my home in the mountains of Idaho featured 8, eighteen foot tall aspens accenting the walls.
So one afternoon, I scraped the arched trees off the wall and decided I would do my Aspens Trees on a pale gray wall. Gray is a neutral color and is so popular right now that I really thought I'd love it.

That certainly was the "design" I was after, but the color still wasn't quite right for all of my furniture and my beige carpet.
I painted over the entire wall with cream colored paint, re-painted the trunks bright white with black bark accents and painted the leaves metallic gold.

Ah yes. That was it!!!!
The point of this story is that we spend money and put time and effort in to decorating our homes. But if once we do it, it just doesn't "feel" right, don't be afraid to make it right! This is YOUR home! You live in it every day! You see those walls day after day and if they don't appeal to you for "whatever" reason (color, design, lay-out), put in the extra time to get it right. You'll be so glad that you did!
And don't think that it's only "you" who has ever faced this issue. Even designers and interior decorators have encountered the same dilemma. What do we do? We fix it!