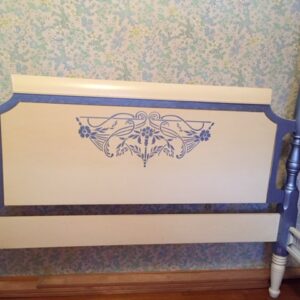 Deborah has been a long time customer that just keeps flooring me with her creative uses of my stencil designs.
She has such an enormous imagination and sometimes, that's all you need besides the stencil design to create something completely unique and awe inspiring.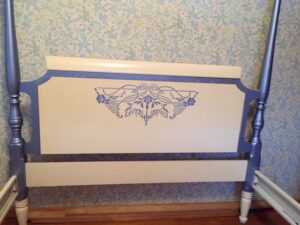 Using our Raised Plaster Francais Border Stencil, she used paint with the design in the center of this this cutsie headboard and then used the same blue paint to do a border and the posts.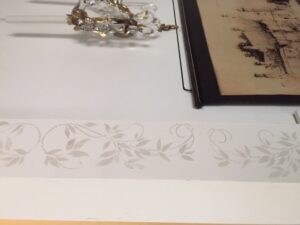 Here, she used our Raised Plaster Palisades border stencil with pale gray paint to create a vertical border on her wall. Remember that any of our plaster stencils can also be used with any paint. You will simply find it to be the most high quality paint stencil you've ever owned.
You will see more of Deborah's creations here in the future, and to be honest, I'm on pins and needles here! Thank you Deborah!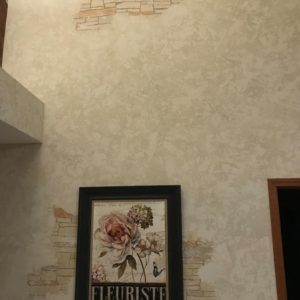 Mindy Everaert loves the look of exposed brick as found on country farms and on Mediterranean buildings.
So she used our Raised Plaster Stacked Stone Stencil to give her home that same look!
I love her placement and how she did it.
Being a smart little decorator, she kept the stones in more soft, muted color.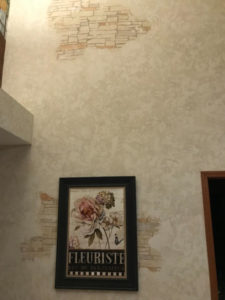 How might you do it too? That's easy:
Paint the wall your desired color.
Use the stencil instructions for adding a bit of color to the joint compound to create the realistic stones on the wall. Do only parts of the outside stones.
Once dry, use a little joint compound around the edges, smearing it up over the dried design then touch up the wall paint once dry.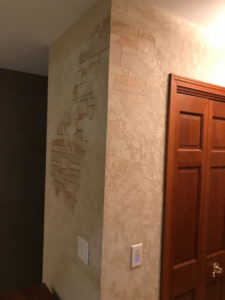 Thank you Mindy! It came out GREAT!