She first painted her walls deep gray then using joint compound, repeated the trunk from the baseboard up to the ceiling. Adding side branches came next then the leafy branches. On the leaves, she added green paint to the joint compound to save tons of work later!

What a lovely addition to this room! Great job Dori!
Remember that all of our plaster stencils can also be used with paints!
I fell in love with Raised Stencils the moment I plastered my very first design in 2001.
I love the raised beauty they produce, which mimics designs on the ceilings and walls of high end homes.
Plaster stenciling can be done on nearly any surface including tile!

Worried about splashes from food? Simply seal with clear, non-yellowing polyurethane to make it easy to clean.
Raised stencils are commonly used with plasters, but you can use them with paint too! You will simply find it to be the highest quality, most durable paint stencil you've ever used!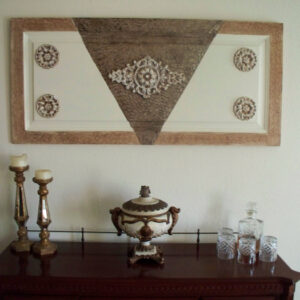 A sweet friend gave me large cabinet doors that she no longer wanted.
Well, you know me, I'm seeing plaster stenciling and cast plaster art in my head! I LOVED the unique triangular section in the center. It had bumpy carving that would create a unique backdrop to cast plaster.
I've been wanting to do something unique for my living room wall and this was just the project!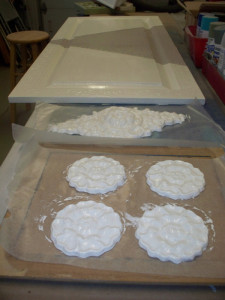 I cast the plaster pieces I want to use from our plaster molds then primed and painted them and the door with cream colored paint. I painted the triangle on the door in neutral brown to coordinate with my carpeting.

I dry brushed metallic gold over the triangle first, then when the paint was dry, again dry brushed it, this time with black acrylic paint. Catching only the very tops of the carvings really showed off the pattern, almost making it look like reptile skin. Cool!
The plaster pieces were brushed with brown glaze then quickly wiped with an old terry towel to remove the excess. This brings out the detail in a huge way! Once dry, the cast plaster pieces were glued in to place.

The border edge was plaster stenciled with our Tremont Furniture Border Stencil, brushed with glaze and then again, the excess was wiped off to reveal the design.
Once dry, I lugged that heavy piece in to the living room, climbed the ladder, hung it on the wall and delighted in my new art piece!
Plaster Molds used: