Product Description
Stencil large, statuesque sunflowers in your mural with this design or do your laundry room in a myriad of cheery stenciled sunflowers in various heights. You probably wouldn't mind doing the laundry anymore!
This stencil design has a repeatable stem to any height and a 10″ flower head with lots of leaves to repeat up the stem. The flower head is 3 overlays, leaf sets with two overlays and single stencil for the stem.
Think about stenciling them on the side of the garage or the outside of your wood fence to please the neighbors!
Try sunflowers over a faux finished wall. Talk about the epitome of home decorating! Then use the flower head on craft projects. Great fun!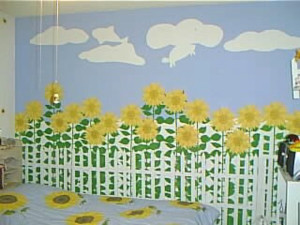 Creating a coordinated room look is easy using just one stencil. Here, Angi Carlisle used our sunflower stencil on the walls in her daughter's bedroom.
Varying heights keep her sunflower mural interesting. And then she used the same stencil on the duvet cover. Adorable!