Product Description
Tree stencils are so much fun and let you create all the life sized trees you want on your walls!
This stencil features a base trunk, repeating center trunk with leaves, large leaf branch and free birds stencil to stencil on branches and flying around the tree.
A stencil roller makes it super quick to apply when you want your tree a single color. Add all the branches and birds you desire to make this tree your own.
Make it as tall as you wish with lots of leafy branches or just a few. You get to have it YOUR way!
Try doing your entry way in ceiling to floor trees and use just the branch stencil in other rooms to add more tree elements to walls.
Consider painting a powder room ceiling in pale blue and then add birds flying around. How fun is that?
Joyce Hewton of RusticFarmhouseCharm.com used this stencil set in the corner of a room. It came out just adorable!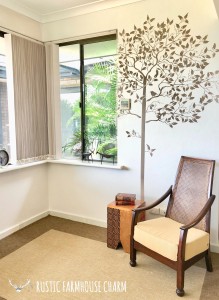 Stencil design size:
Base trunk: 16 1/4 x 1 3/4″
Center repeating trunk: 16 1/2″ x 10 1/2″
Large branch: 15 3/4 x 9 1/2″
Small Branch 10″ x 6 1/4″
Birds in sizes of 2 x 4 1/2, 3 3/4 x 4 1/4, 2 1/4 x 4 and 2 x 5 1/2″