Product Description
Start with the plaster free-form grapevine stencil and plaster trailing vines and leaves over your walls. Use the grape stem where ever you are planning to add molded grapes.
Next, use the mold of grapes and leaves with plaster of paris (available at any craft store or home store) to create hard plaster castings that you then simply apply over your design (where ever you want!) with simple joint compound as the adhesive!
What could be easier than that!
The look is so impressive you will have people gasping at it's awesome appearance and begging you to tell them how you did it (Ahhh….must you really tell??? Heck NO!).
Pro artist Johanna Annabel used this stencil set in the home of a client. An impressive vine of grapes and leaves now grace the kitchen.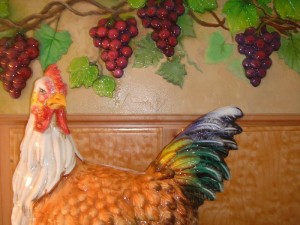 Once the plaster pieces are hard, simply coat them with wall primer or a mixture of 1/2 water to 1/2 white glue to seal the dusty plaster then paint any way you choose before applying to the wall.
A great design for your wine room!