Product Description
This plaster stencil is a favorite with faux finish schools and artists across the country.
No, it's not just for ceilings, but it does create that look of beautiful, tin ceiling tiles with just this stencil and joint compound.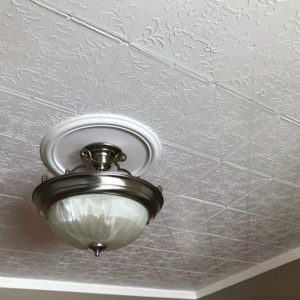 Ceiling by Patricia Dell
But talk about a fabulous design for furniture, or use just the detail stencil with paint to create the look of a tile floor pattern or repeated wallpaper.
Kathy Boyd used it with beautiful plasters and Joannie Valenti used it to create an adorable pattern on a stool.
So many uses!