Product Description
I love this plaster mold and what it can help you create!
Aren't they Grand? Each scroll measures 9 3/4″ long and 4 3/4″ high! Fabulous for over a door or heck! Why not the door itself! That's what I'm doing to mine!
But look what Cathy Higgens did with hers! She added them to her stair case to make it much more elegant.
Stair case before: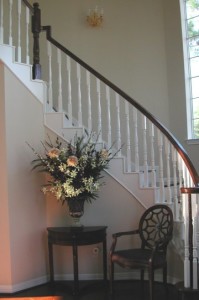 Stair case after:
For large rooms with tall ceilings, try doing a design similar to this next to the ceiling. Sure takes the place of bland molding doesn't it? Surround the entire room with that lay out for a "Million Dollar" look of grand estates!
Imagine guests walking up to the door you do with these! Mix and match with any of the molds or stencils for a look that is uniquely YOU!
Casting plaster is easy! Mix Plaster of Paris 2 parts plaster to one part water, stir well, pour in to the mold after spraying with Pam cooking spray or other release agent, wait 30-45 minutes then pop it out!
Applying it to the wall is a cinch! Just spread the back with a coat of joint compound, hold to the wall for about 1 minute and it's there good and solid!