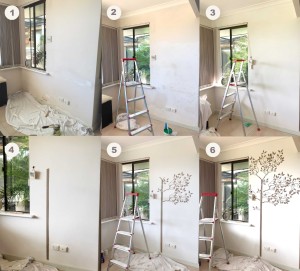 Joyce Hewton of RusticFarmhouseCharm.com thought this plain little corner of the room would be the perfect place for our Large Tree Stencil Set, and it is!
In the above photo, you can see where she began with the trunk element of the stencil set, repeating it upward then beginning to add leafy branches where ever she saw fit until the tree was completely finished.
It came out great, don't you think?

This stencil set also comes with a FREE birds stencil to add little birds seated on the branches or flying around the tree.