I had so much fun stenciling this cute table.
I found the base at a thrift store. It was in great shape and only cost $9.00 to purchase. I then added a solid wood top from Home Depot.
After a bit of sanding, a coat of primer, and a coat of black paint, I was ready to go!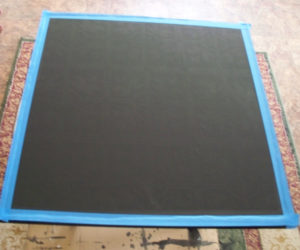 I wanted the edge of the top to remain black, so I taped it off with painters tape.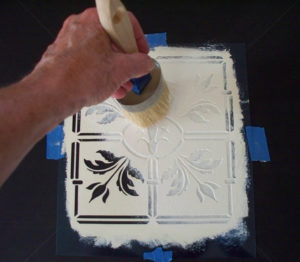 I first found the center of the table by measuring in from both sides and making a mark to determine the center of the table. I lined up the center of our 8″ Fiore Tile Stencil over the pencil mark in the center of the table. I stenciled it with white acrylic paint.
I then lined up the outer elements of the stencil with the previous stenciled tile and repeated the design across and down the table. It was easy!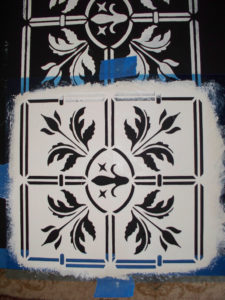 After a quick coat of satin polycrylic (which doesn't yellow), I was done.
The finished table turned out absolutely adorable!
This is a great stencil for floors, back splashes and walls as well. It comes in 6, 8 and 10″ sizes for your particular needs.