When Amy Anderson discovered our website, she also discovered that it was possible to create unique plaster art on her ceilings and walls with our selection of plaster molds.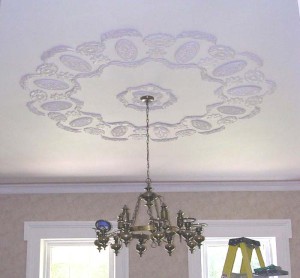 With just a few plaster mold designs, she created this huge ceiling medallion around her chandelier.
It's easy! See how by clicking the link below:
Casting plaster is super easy. Just follow the instructions on the bag of plaster of paris for mixing the plaster. And it's inexpensive! For as little as 50 cents per cast piece, your medallion will cost very little.
What do you use as the glue to hold them to the ceiling? That's the best part! Simply spreading a layer of joint compound on to the back of the dried plaster piece, then holding it in place (on the wall or ceiling) for 60 seconds is all it takes to make the piece adhere beautifully!
I did a plaster frame around my chandelier and it survived a Seattle earthquake without even a tiny crack!