Bill Landers goes all out when he does something. He's neat, organized and has an eye for all things original and totally cool!
In his garage, he had applied an awesome mural wallpaper on the back wall and though he loved it, he wanted to do something to the adjacent walls to complete the look he was after.

He chose our Life Sized Tree Stencil and used it to create a row of trees on the blank walls that really brought the space together.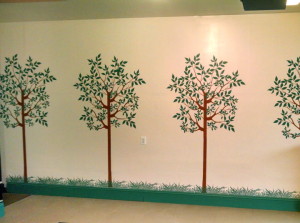 Hand painted grass at the base added just the perfect touch.
He even stenciled the trees leading down the hallway toward the entry door!

What a fun place to work on projects! Bill, you ROCK! I just love creative people!