Teresa John knew what she wanted in this room and she found just the stencil to create the look.
She first painted the wall a rich brown color then used our Raised Plaster Aspen Tree Stencil Set to create ceiling to floor trees to completely fill this lovely wall.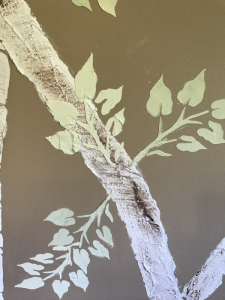 Using the joint compound as we recommend, she creates knarly looking bark that looks and feels like real bark!
Pre-tinting a portion of the joint compound with green paint took the step of having to paint the leaves completely away.

She called it fun…..I call it rustic elegance in a stencil!