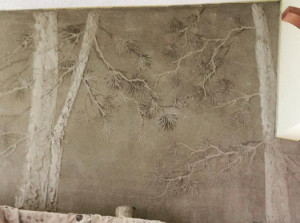 Annette Tyrell is a very talented artist who works with Artworks in Spokane, Washington. No wonder she loves pine trees! The area is full of them and they are tall, majestic and so beautiful.
I absolutely love how she did the raised trees on beautiful brown walls, glazing darker over the pine needle sprigs.
When we use our tree stencils to create tree murals on walls, placement is important to create more realism. Some people evenly space a group of trees on the wall, but that rarely happens in nature. 
Walk in to the woods or forest and you will see that tree spacing is very random. Now, look at the branches, they aren't evenly spaced either! Some are close to one another, others are farther apart.
You can tell Annette takes this in consideration in her wall design. Two trees close together on the left then one spaced farther away on the right. Look at the branches on the trees. The same principal applies.
Artists like Annette teach us wonderful things that can help us all be better artists.
Thank you so much Annette! I'll have to find a place in my own home for this beautiful wall design!