Irida Kyriakopoulou had a worn chest that she wanted to give new life to. It indeed needed some attention. And what a wonderful job she did!
Giving it a new paint color and then sanding back to make it look more antiqued, she then applied our Raised Plaster Romantique Stencil over the cabinet doors. Because of it's shape and size, this stencil is just perfect for furniture make over projects. Tape off smaller elements of the design for application to drawers if you like.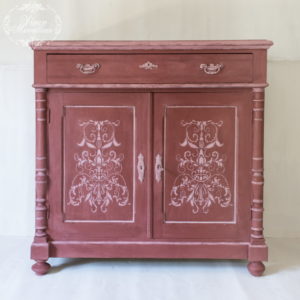 With one applied to each door, this stencil gave the cabinet such a beautiful new look.
New hardware helped it to look new again.
Thank you Irida!